Our New Centre
In February 2012, Sunshine Coast RDA purchased 24 beautiful acres at North Arm on the Sunshine Coast. The land was vacant and has given us a blank canvas to design and develop a Centre of Excellence for riders with a disability and for the Sunshine Coast community at large.
We now have a mortgage to pay off. Any assistance would be gratefully received!
Sunshine Coast RDA has obtained a Material Change of Use (MCU) for the site and development plans have been approved.
Our next major hurdle is to find funding to finance the building of the Centre.
In late 2013, thanks to support from the Sunshine Coast Regional Council and the State Government (GCCBF) we were able to commence the earthworks shaping and drainage as well as the base for the arenas.
The earthworks project has now been completed (Feb 2014) in readiness for the next phase of the overall plan.
The community at large has been extremely supportive of this development, and in particular Sunshine Coast RDA would like to acknowledge the support given from the Eumundi, Coolum and Caloundra communities and the media in particular.
October 2014 Update: The new outdoor arena is well on it's way to being completed. The Diamond Grid base has been laid and the small gravel in-fill has been spread, which will allow for exceptional drainage. The sand is next to go on and treated logs are already in place to contain the sand.
A huge Thank you to the Buderim Foundation Inc. who has awarded a grant for the purchase of permanent arena fencing around the outdoor arena.
November 2014 Update: The new outdoor arena is ready for use and the first group of riders to use it were from Noosa District State High School.

A cheque for $100,000 was presented in November from Steve Dickson, MP, Minister for National Parks, Recreation, Sport and Racing as part of a successful "Get in the Game - Get Playing" grant application. This was the last of the funding needed for the commencement of the covered roof over the future indoor arena.


February 2015 Update: The fencing was completed around the outdoor arena thanks to a very dedicated and hard working team of volunteers. It is ready just in time for the Dressage Protocol Day on Feb 22.
March 2015 Update : The construction of the covered roof over what will be the indoor arena has begun!
The new outdoor arena hosted the inaugural Dressage Protocol Day on March 29 (postponed due to weather from the advertised Feb date).
May 2015 Update : The completion of the new Shade Roof Structure was celebrated during National Volunteers Week, with a "Roof Wetting" Ceremony. The local Rural Fire Brigade, project supporters and politicians were on hand to celebrate.
In May 2016 we moved into the new clubhouse Stage 1, thanks to another $100,000 grant from "Get in the Game - Get Playing" from Dept of Sport, Recreation and Racing.
We now have a fully set-up rider preparation area, First Aid and Physio room and 2 fully operational offices. Many other spaces in the clubhouse are also usable but not yet completely finished. The remaining plans will have to wait till more money is available. Enjoy your clubhouse!
In November 2016, following a successful grant from Qld Community and Gambling Benefit Fund, the construction of the northern skillion roof was completed. This will allow our ramp and mounting area to be undercover. A new Tack room was also placed under this roof.
For the start of 2017, all our horses will be kept in temporary horse yards under this skillion roof before and during sessions. They will be groomed and tacked up under cover and can wait undercover for their riders. When finances allow, this is where more permanent horse preparation stalls will be built.
July 2017 Update
Horse Preparation Stalls were constructed under the skillion roof. These stalls are more roomier than the previous temporary stalls. Funding for the stalls was from a Gambling Community Benefit Fund grant.
June 2018 Update
The Indoor Arena watering system was connected to the rainwater tanks. Funding of this project was from a Gambling Community Benefit Funds grant.
August 2018 Update
A new front awning to allow wheelchair access in wet weather was constructed thanks to a donation from Amber Fox and The Property League. This will be a drop off and pick up area.
A 2nd land property for Sunshine Coast RDA.
In late 2013, a 35 acre property at 58 Pryor Rd, Verrierdale was willed to Sunshine Coast RDA from the estate of Laurence Ehrenberg. (Laurie had been active for a short time as a volunteer with SCRDA at working bees etc.) On 15th January 2014, we were advised that Title of Transfer had been completed so now Sunshine Coast RDA has another venue for some of our programs.
It is a beautiful property with undulating hills, a creek and rainforest area as well as a flat area for an arena.
On Sat 8th March 2014, a team of 100+ willing workers from Sunshine Coast Grammar School "Grammar Helping Hands" team completed a Makeover Blitz on this lovely property. Painting, cleaning, mowing, whippersnipping, landscaping and construction of a yard around the Dairy Stables were completed. Thank you to everyone on the day and especially to those businesses and parents for their donations of goods and services. You are just fantastic!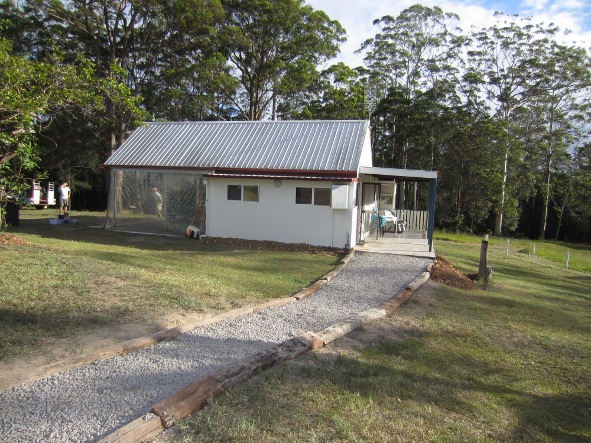 Term 1, 2015 : Horses (retired from the riding program) and minis have moved here to commence Equine Assisted Learning (EAL) sessions.
Sugah, Alfie, Perry, Ollie, Spotty, Babe and Blossom are enjoying this peaceful rural setting.
Horses on rest and recovery often stay here too.